Sacrifice round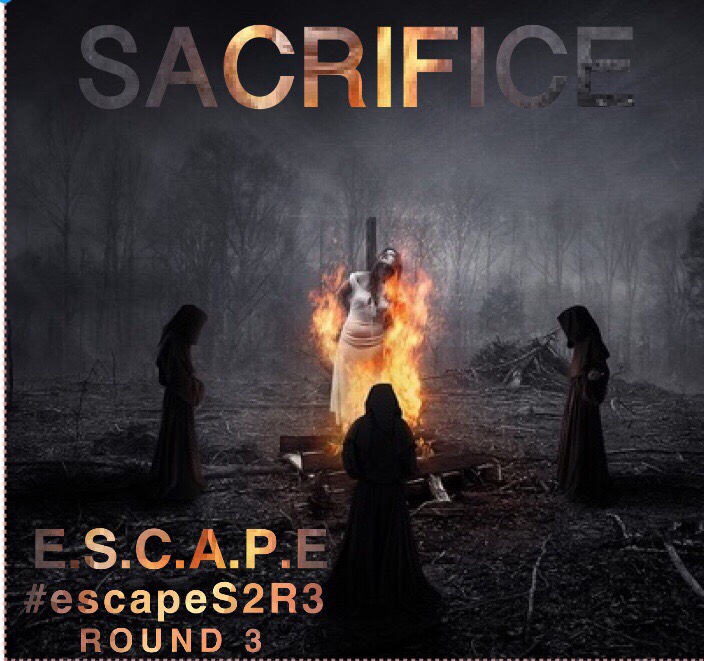 Welcome all teams, to our third round – Sacrifice round
It feels like we have been walking for days, but the accident just happened a few hours ago.
While I was thinking to myself I could hear the sob from the back of the group. How could we leave someone beHind? The pain was immense, but I knew that I had to be strong. The rest of the group were barely walking on their feet. They were tip-toeing. Everyone was afraid of what was going to happen next.
This feeling wouldn't shake off. I knew that it was a matter of time. Something would happen very soon.
We kept on walking for several more hours. Suddenly the stony ground that we've been walking on disappeared. Everything became mossy and damp. I could see something far ahead. Was that…a light? Oh God! It was a lantern! I began to run ahead. It has been so long since I last saw something so comforting. I ran and ran, the rest of the group barely had a chance to keep up with me.
I was so close to the lantern now, it was only seconds away.
I grabbed it! The group just arrived as well. The fire was so warm and safe. Just now it felt as if this could be our new home. A warm and safe home. Of course the peace wouldn't last for very long. I began to hear a Very weird noise. Almost mechanical, and the sound surrounded us. Oh no! IT'S A TRAP!!
The whole ground just collapsed. The group and myself just fell and fell. Perhaps hundred of feet. I knew it was too good to be true. How could I be this stupid?
"Splash, splash and splash!" sounded the water. We all fell right into a giant underground lake.
– "Hey guys, there's an island over there!" yelled one of my team members.
We began to swim ovEr to the island. When we finally arrived we noticed that this wasn't an ordinary island. The whole island was a giAnt altar! On the altar there was a sign written in an ancient language no one has seen in ages. Luckily my late parents taught me our history well.
But what was the name of this language now again? I know what it is called, it's just so fuzzy.
Your scholar needs to solve the rest of the riddle now.
Your mission
This round's mission is in two halves. First half is about the song selection, you must sing a song about agony and pain. Second half, you and your team must solve this round's puzzle because the solution to the second half of the mission is hidden within the riddle.
This riddle must be solved within 24 hours from when this round was posted. If you can't solve it, send your siare and pray to one of the gods or goddesses for help. 
What do we expect?
Only songs about agony or pain
Background vocals are  allowed if covered up completely
Minimal Lyric changes like "he" and "she" are allowed – confirm with a judge before starting your song.
Layers are unlimited
Everyone in your team must sing a part in the song (Background vocals, Solo, Melody, Harm, etc)
Mashups are allowed, if all songs contain/or is about the word sacrifice or pain
Song can only be opened by team members, no group accounts allowed.
ESCAPE points?
If you do harm another team you will receive 3 Escape points as a reward.
General rules
Your submission MUST be dated (at earliest point) from the release of this post.
You MUST attach the correct hashtag and cover art to your submission. There are no exceptions and this is your responsibility alone.
Videos are ALLOWED
All entries MUST be available and visible to us judges within the permitted time frame. Late entries will be disqualified.
Sing in English only please.
You are not allowed to open the song with a Group Account
What effects can be used?
Permitted FX's to use: Only None. The use of any other fx leads to punishment, unless you disabled the lock on the song for this round by talking to the blackmarket dealer
No Exceptions!!!!!
Hashtags
You'll need three hashtags
#EscapeS2
#EscapeS2R3
#YourTeamName
(You MUST use the correct cover art and put all correct hashtags in the description of your song)
Hashtags to be used by all contestants every round:
#EscapeS2R3 #EscapeS2 #YourTeamName
NO exceptions!
Following document shows the criteria
Please click on the blue link below to view the judging criteria
Two (2) judges will judge together in a "so called" judging group. We have ten (10) judges in total, so that we do have five (5) judging groups. Judges will discuss points so that a fair judgement can and will be made! No discussions!
In total, you can earn 30 points max per judge group! This gives you a maximum of 150 points per Entry!
Due by: April 16th – 7 pm CET
Results: April 18th
Ticker to End of Round
https://www.timeanddate.com/countdown/generic?iso=20180416T19&p0=5482&msg=Deadline+for+round+3&font=cursive