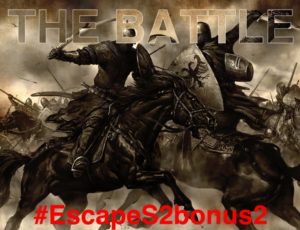 Bonus 2 – A battle between warrior
Your mission
Your team's chosen warriors will battle another team's warriors in a so called "duet of sudden death". *To be superfluous…..The two warriors from each team will sing in THE SAME SONG!!!*
The battle pairs will be chosen with the wheel of fortune. *The diplomat's from each team will come together and decide the song for the warrior duet.*
MOHAHAHAHAHAHAHAHA!!!
ESCAPE points?
Other than the sweet sensation of winning a battle the winning team will also receive 5 Escape points as a reward. And the loser will be mocked by his or her team and will be sent to gladiatormarket as a punishment. This person can now be bought by everyone, you can however make a deal with the gods to buy the warrior back before the gladiator auction starts.
MOHAHAHAHAHAHAHAHA!!!
General rules
* Your submission MUST be dated (at earliest point) from the release of this post.
* You MUST attach the correct hashtag and cover art to your submission. There are no exceptions and this is your responsibility alone.
* All entries MUST be available and visible to us judges within the permitted time frame. Late entries will be disqualified.
* Speak in English only please.
* You are not allowed to open the song with a Smule Group Account.
* Every player will only get ONE (1) layer each since this is a DUET battle. Use your layer wisely.
* This bonus is mandatory
*If song not chosen within 3 days contact one of the gods, you will be given a song
This pairs will compete against each other (randomly putted together with wheel of fortune) the teams with 2 warriors may choose one to fight
Group 1
Nervous
PshycicSidekicks
Group 2
Independentwarriors
XVoCha
Group 3
eNam
Voiceboxkillers
Group 4
Unnamed
Herecomestreble
Group 5
UCsinners
Uniqueperformence
Group 6
TheWolves
TheEscapeClause
Group 7
Saints_Sinners
Tazs
Group 8
TheDevilz
Xvoicehom
Group 9
TeamAGR
TheUndead
Group 10
TheRebels
Platinumenvy
Group 11
Lizzieandthecatfish
MarsMusic
Group 12
Dungeonsanddragons
Team_faLuRoD
What effects can be used?
Permitted FX's to use: Only Super Studio. The use of any other fx leads to punishment
*No Exceptions!!!!!*
Hashtags
You'll need three hashtags
#EscapeS2
#EscapeS2Bonus2
#TeamName_VS_TeamName
(You MUST use the correct cover art and put all correct hashtags in the description of your song)
Hashtags to be used by all contestants every round:
#EscapeS2Bonus2 #EscapeS2 #TeamName_VS_TeamName
NO exceptions!
Due by: 04-15 – 7 pm CET
*Ticker to End of bonus*
https://www.timeanddate.com/countdown/generic?iso=20180415T19&p0=5482&msg=Bonus+deadline&font=cursive