Bloody round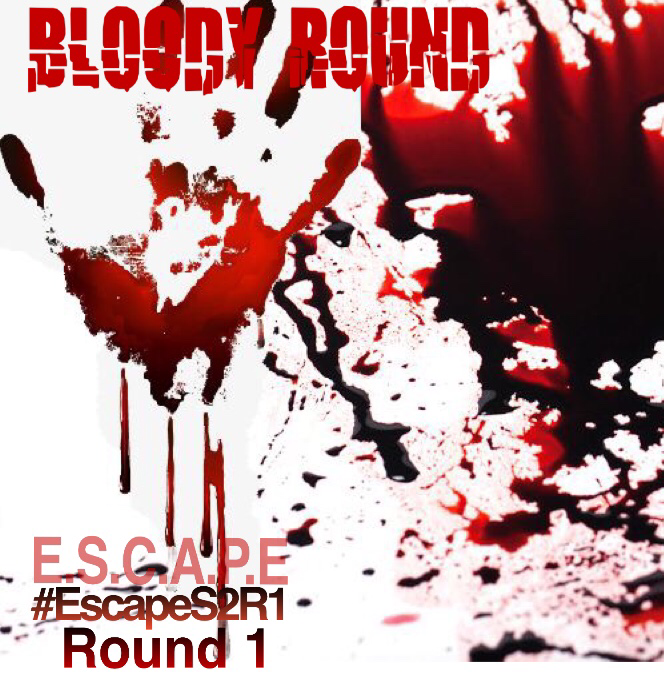 Welcome all teams, to our first round -Bloody round
– Come on! We must run! It is not safe here! Said the black cloaked elderly man.
War had just begun… again.
I cAnnot remember a single peaceful day in my life. In this maze all I can see is death, diseases, pools of blood and wars without any end. What is this curse? Is this all we knoW? And since I have no family left I solely have to depend on myself.
I remember the ancient legends about this land and about the curse, told by my gRandparents, when I still was an innocent kid. "The curse will be lifted by a group of people with pure hearts, dedicated to solve the puzzle and find the way out of this maze, but until that day happens we shall only know darkness".
– Ha! Pure hearts? Who in this rotten maze can possibly have pure hearts? I said to myself. The cloaked elderly man stared at me. He must have thought that I was insane, talking to myself while we were running towards some shelter.
When we found some shelter I found myself with a group of people, just as out of breath as me. All we heard was the horrible war-horn, shouting troops and clinking blades worn by people running towaRds their certain death. I watched the cloaked elderly man walking away from me and the group of people behind me. He shouted an ancient maze saying to uS. "May the odds ever be in yOur favor". That was the last time I saw him. Even though the saying is incredible ridIculous it still means something to all us. It's some kind of "maze" hope. It means that some of us actually might have the chance to get out of here, as it has been told in the legends.
I felt safer with the group behind me. It is much better than being on my own. Even though I shouldn't tRust other people I still feel safer when I'm not on my own.
Suddenly I felt touched by this scenery of blood and war. A song was built and tried to emerge from within my chest. I know that the people with me felt the same..
Your mission
You and your team get to choose a song with blood in the title or lyrics
What do we expect?
Only songs with blood/bloody in title or lyrics
Background vocals are not allowed on the track
Minimal Lyric changes like "he" and "she" are allowed – confirm with a judge before starting your song.
Layers are unlimited
Everyone in your team must sing a part in the song (Background vocals, Solo, Melody, Harm, etc)
Mashups are allowed, if all songs contain/or is about the word blood/bloody
ESCAPE points?
If you do harm another team you will receive 5 Escape points as a reward. Additionally incorporating a challenge deciphered by your Scholar gives another 3 ESCAPE points.
General rules
Your submission MUST be dated (at earliest point) from the release of this post.
You MUST attach the correct hashtag and cover art to your submission. There are no exceptions and this is your responsibility alone.
Videos are ALLOWED
All entries MUST be available and visible to us judges within the permitted time frame. Late entries will be disqualified.
Sing in English only please.
You are NOT allowed to open the song with a Group Account
What effects can be used?
Permitted FX's to use: Only None. The use of any other fx leads to punishment unless you disabled the lock on the song for this round by talking to the blackmarket dealer
No Exceptions!!!!!
Hashtags
You'll need three hashtags
#EscapeS2
#EscapeS2R1
#YourTeamName
(You MUST use the correct cover art and put all correct hashtags in the description of your song)
Hashtags to be used by all contestants this round:
#EscapeS2R1 #EscapeS2 #YourTeamName
NO exceptions!
Following document shows the criteria
Please click on the blue link below to view the judging criteria
Two (2) judges will judge together in a "so called" judging group. We have four (4) judging groups. Two judging groups will judge you this week. Judges will discuss points so that a fair judgement can and will be made! No discussions!
In total, you can earn 30 points max per judge group! This gives you a maximum of 60 points per Entry!
Due by: March 29th – 7 pm CET
Results: March 31st
Ticker to End of Round
https://www.timeanddate.com/countdown/generic?iso=20180329T19&p0=239&msg=End+of+Round+1&font=cursive&csz=1